Since I as a little schoolboy for the first time learned about the world's highest mountain, I have been fascinated. Sagarmatha. Chomolungma. Everest. Call it whatever you want – the 8,848 meter peak is something incredibly impressive to me.
The dream of hiking to Everest Base Camp has been with me for a long time and now it has finally come true. We booked the entire hike with Trekking Team, a company run by Hari and Ram. They are two brothers that Leanne got to know when she was in Nepal many years ago. You find them on Instagram here: @trekkingteamnepal 
We had many cups of Nepali tea with them all before and after our hike. I highly recommend their company if you want the full package with a guide, porter and all accommodation and food.
Even though the whole thing feels unreal now afterwards, the pictures in my camera reveal that it actually happened. Here is my report from the top of the world. Part 1 of 2.
FOLLOW: We quit are jobs to live A DIFFERENT LIFE – Follow us on Youtube >>
Kathmandu – where it all begins (Day 1-2)
The exhaust fumes and road dust blankets Kathmandu. The city is chaotic, wild and exotic. On one side of the street is a small messy shop that sells nice and luxury shoes, on the other side lays meat on a counter literally next to the dirty road. In Kathmandu this is perfectly normal.
This is where our journey begins. We buy the last few things needed for the hike. Tablets for purifying water, muesli and energy bars, electrolytes, extra blister plasters and of course chocolate. There is noway I'm doing this hike without chocolate.
On our second day in Kathmandu we're going to bed early. At 2am we will meet our guide Padam to get a minibus to the airport in the small village of Ramechap, four hours east of Kathmandu.
ALSO READ: Peaceful silence when kayaking in Doubtful Sound, New Zealand >>
Lukla – the world's most dangerous airport (Day 3)
I hold on for my life to headrest in front of me. Flying in to the Himalayas and in between the peaks in a tiny airplane is really, really scary. We're going to what is referred to as the world's most dangerous airport. All goes fine, the pilots are taking us down safely. Our walk from Lukla at 2,800 meters can now begin.
Lukla to Phakding – a day in a lush valley (Day 3)
It's just Sean and me in our group, but during our trek we will meet many new friends along the way. We leave the busy and colorful streets of Lukla to take on the first day's hike, our first bit of this long adventure goes through the lush and green Khumbu valley, past waterfalls and cute villages. The small village of Phakding, which is our final destination for the day, is actually at a lower altitude than Lukla, so we're heading downhill. Our guide Padam leads the way with a big smile on his face humming on different local songs. Our porter Yan who carry our big bags is very quick and has already disappeared way ahead of us.
The views are amazing even though we can't see any snow covered peaks this very first day. But the wild roaring Khumbu River that meanders through the valley is beautiful to look at as well, its ice-blue color is revealing where we are about to go. Many yaks are passing us on the trek, they're carrying bags, gas bottles and other stuff up the mountain with, what looks like, no effort. The cow like animals are very impressive with their long black hair and massive horns. They are accompanied by mules which carry out the same job.
ALSO READ: Flying a plane is one of the scariest thing I've ever done >>
We arrive in Phakding just after 12 o'clock. Hungry as we are we immediately order some Dal Bhat for lunch. Dal Bhat is lentil soup with rice and curry and is by far the most common dish in Nepal. The best? If you order Dal Bhat it's basically "eat as much as you can" as it includes free refills.
Our guide Padam is our king on this trip. He takes care of everything that has to do with accommodation and food when we arrive at our destination every day. He quickly gets the key for our room. Our room is small but have everything we need. Two single beds and a bathroom with toilet and shower with hot water.
After a very early morning and half a day of trekking, we sleep very well that night.
Climbing the steep "Namche Hill" (Day 4)
When we were in the Himalayas two years ago, I wrote about the "killer hill". It's the hill that we must defeat to get to the largest village in the mountains – Namche Bazaar. The hill doesn't feel any easier my second time, believe me.
We leave early, just after breakfast from Phakding and hike along the river even further into the Khumbu valley. We pass through the villages of Monjo and Jorsale. Typical villages where you will see the Sherpa people living their lives. A woman clears out weed in a vegetable patch, a man hangs up laundry and a someone else is chopping firewood.
During the first half of the day we get to see our first snow covered peak. It's Thamserku with its 6,623 meters. With new energy we cross several suspension bridges before we reach the last one, 60 meters or so above the river. Pretty damn scary.
The path is winding it's way up Namche Hlll, this is our first proper "test" of this hike. The view down into the Khumbu Valley is so beautiful with the mountain ridges overlapping each other in the sun shine. The views give us energy and together with a piece of chocolate halfway up the hill we manage to push on. Slowly, slowly.
After two days of walking we are tired, but feel very good. At this point we don't really notice the altitud.
ALSO READ: "Adrenaline rush when crawling in the caves of Waitomo, New Zealand"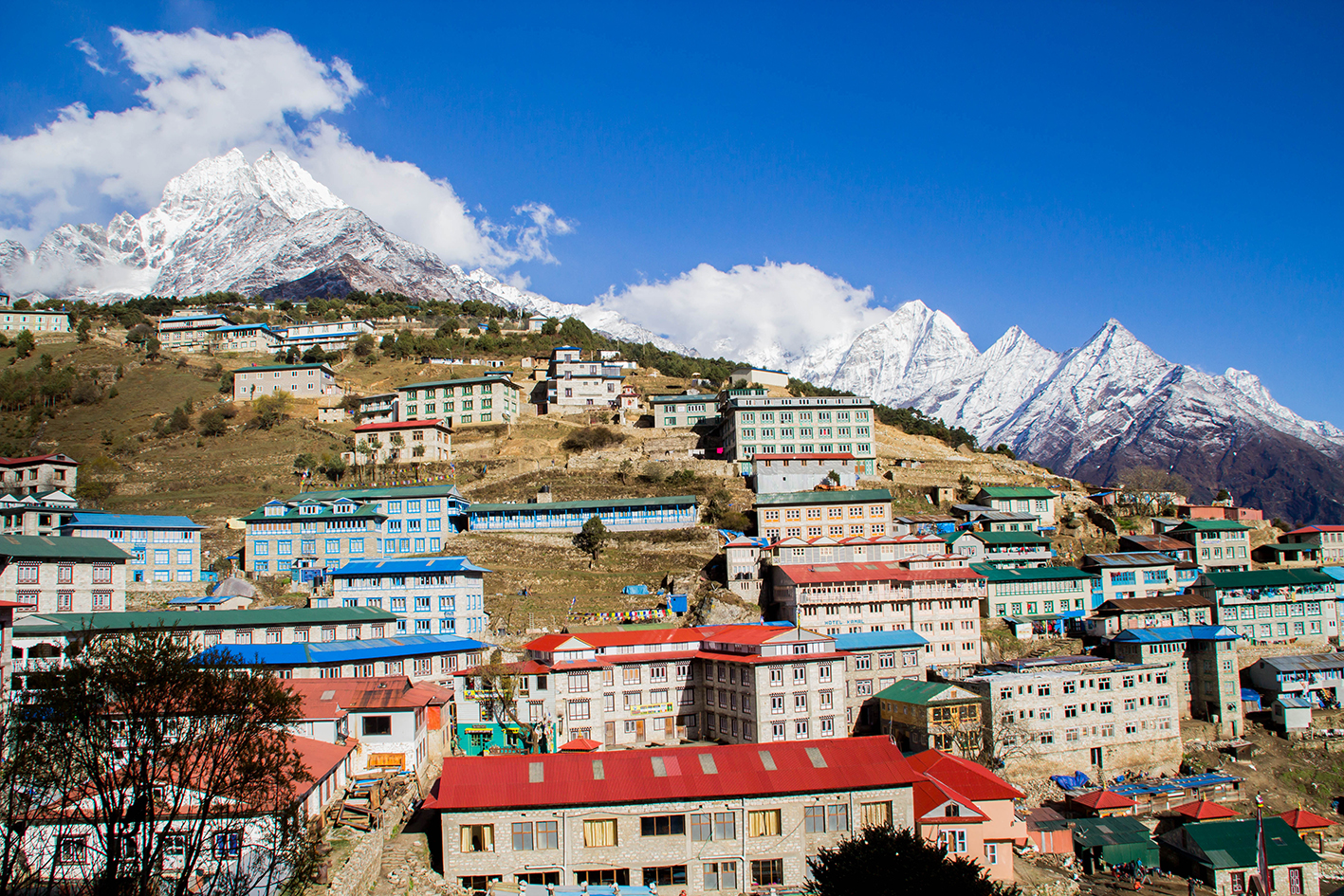 Namche Bazaar – day of rest with coffee (Day 5)
After two days we're now at 3,400 meters. Our third day is a day of rest to acclimatize to the new altitude. We're going for an easier day hike in the morning to give us some extra altitude experience. From the ridge above Namche we look out over the mountains to the south, in the opposite direction to Everest. Kongde Ri (6 187 meters) is rising above us majestically. To the north we only see Khumbila (5,761 meters), the rest is covered in clouds.
READ MORE: A crazy fun day canyoning in NZ: "I am addicted to this" >>
I can stare at mountains for hours. I just admire them and I'm amazed by how high they actually are. There is something special about mountain peaks. Back down in Namche and after some lunch and a refreshing shower we are ready to fully relax. I have a slight headache, but with som food, water and rest it's going away
In Namche there is everything you could possibly need. Among other things, the world's highest post office, the world's highest Irish pub and a couple of good bakeries. We find "Hermann Bakery" and order some tea and apple pie. Oh man, that was good and we are not the only ones here, this place is really popular among tired hikers. Very understandable, good coffee and sweets makes anyone happy.