If you are traveling towards the West Coast from Nelson and Abel Tasman you will undoubtably drive along the scenic and breathtaking Buller Gorge. Carved out in the rock by the wild Buller River with it's turquoise blue and sometimes crystal clear water.
Most people are just passing this incredibly beautiful area on their way to the Pancake rocks and Franz Josef glacier. Occasionally we see some people stopping to take photos at the view points, but most people have glacier country in their aim.
As we are traveling slow and really want to see every nook and cranny of New Zealand, we wanted to get something more out of this astonishing river than just a viewpoint at the side of the road. We booked a rafting trip with the small family owned and operated Wild Rivers Rafting.
We love it like that, the small family  businesses is the way to go if you really want a personal experience from the people who have the river as their backyard and have lived here for many years.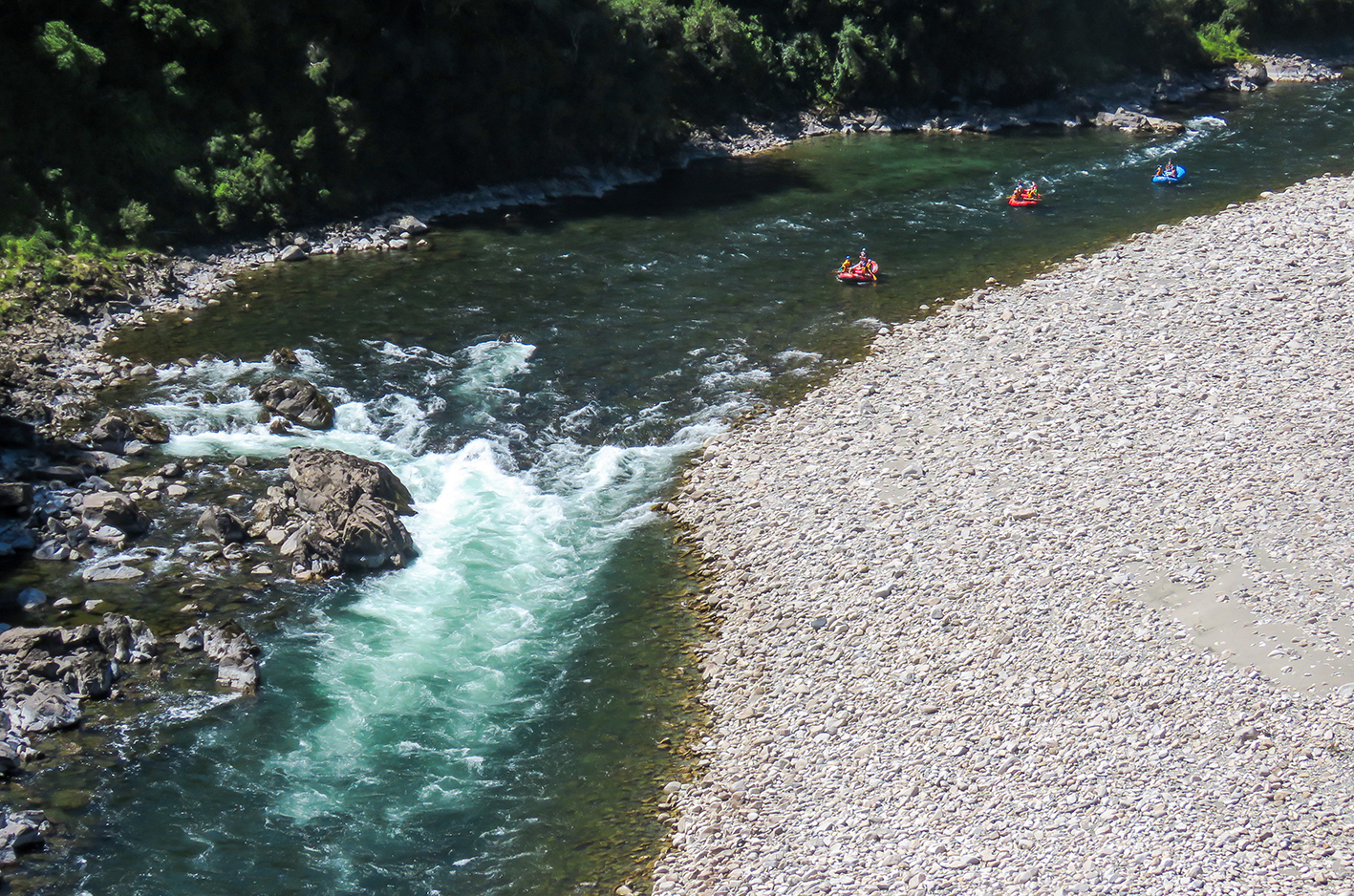 It's february and it hasn't rained for a while. The river is low, but that doesn't mean less fun. More rocks are visible and water is going wild all around them. We start our trip about an hour from Westport on the west coast. Rafting down the Buller River is the most fun we've had together in New Zealand so far. Laugh per minute is pretty high. Screams per minute as well to be honest.
We love white water rafting, it's so much fun. And it's easy! You don't have to be a pro to enjoy. So much adrenaline and endorphins are pumping while we do everything we can to hold on to the raft.
It's the experienced guide James who safely taking us down the river. He has lived in the area his whole life and have so many stories to tell about the river and the area.
He was just a little boy when an earthquake happened some 50 years ago. The earthquake changed the river and created what today is called the legendary "Earthquake Rapids". This is the section of the Buller River with the most whitewater. At one point we are laughing so hard that it for a second feels like we're going to fall in.
After going wild over many rapids we are offered to jump in for a swim to glide through deep pools and lush subtropical rain forest. We can just lay there and let the flowing river do all th work for us. The temperature is not to bad actually. Hand in hand we are gliding together and for a moment we forget everything else. Right here, right now is all that matters. We are right smack bang in the middle of this gorgeous nature. That's life how it's meant to be.
The wild and scenic Buller is a large volume river with no dams to regulate the flow. The Rapid Grade 3 to 4 varies with rainfall. It's one of New Zealand's longest rivers, 160 km long it meanders through a mountain landscape all the way from Lake Rotoiti in Nelson Lakes National Park down to the west coast and the Tasman sea.
You don't have to be experienced to take on this adventure. Your guide will tell you everything you need to know and go over all the safety instructions.
Our day white water rafting in Buller gorge is a collaboration with Wild Rivers Rafting. Every post I have written about this trip is my own opinions and I would never write something that I don't stand for. All posts are written by me and are written based on how I experienced it.