He checked us all into a motel room, payed for our dinner and drinks. Getting the feeling that he was trying to get us drunk we carefully swopped for water after our second beer. Getting a free ride when hitchhiking in Western Australia has it's price.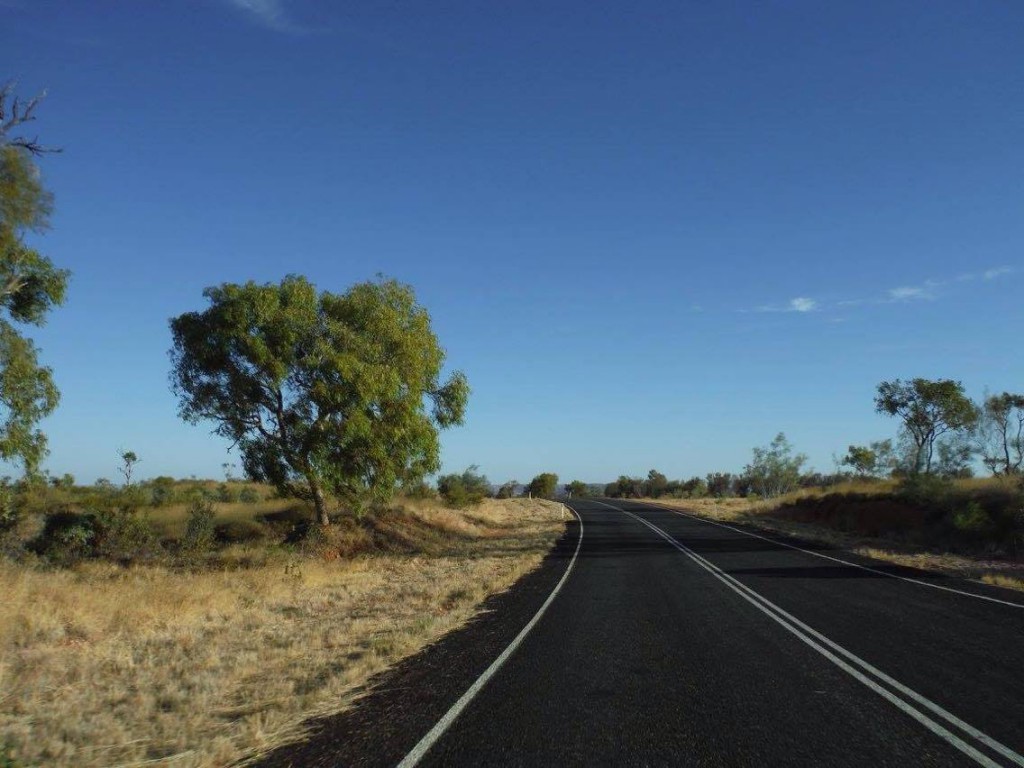 One phone call settled it. With a week of unsuccessful job hunt boredom had slowly began to settled in our mind and our soul. It was as if we'd been waiting for a reason to leave. Broome was not for us. Our friends call from Darwin that day, saying that they were going to Alice Springs, was the sign we had been looking for. And the excitement to see them again made the decision for us. Having close to no money, left us thumb up by the side of the road. With a background of amazing hitchhiking experience gave us a strong confident despite the distance of 3500 km crossing the northern territory.
The first two cars stopping that morning was cops telling us that hitchhiking is illegal in Western Australia due to the high number of people ending up missing. They didn't wanna see us in the paper the next day. We shook our head naively trying to keep our confident even if we couldn't hide the worried looks on our faces. It took us all day, and 3 cars to get us to Flitzroy crossing by the end of the day. Only a tiny bit our way despite the distance we had in front of us.
Our luck did not improve the following day. We packed our tent down before sunrise to hopefully increase our luck of getting a long lift from one of the trucks heading north. Even if we where on the road by 6am no one wanted to take us. We came to the realisation that the traffic crossing this part of Australia was very limited, nothing close to what you'd find on the east cost or New Zealand. We also carried a lot of stuff, an exception from my usual travel habits where I could fit everything in a cotton, shoulder strapped bag. Except from our own backpacks we had 2 tents, sleeping bags and mats, 2 teddy bears (Bert & Barry), food and heaps of water. The ants got most of our food, leaving us with dried noodles for breakfast as we fought the sun by the side of the road. There was no sign of shade and we got through most of our water during the first few hours in the sun. And we got nowhere. The confident we felt so strong yesterday slowly got replaced with desperation.
'This is the worst day of my life" Charlotte finally yelled out after 7 hours in the bursting heat. She was allergic to sunscreen. We seemed to be in a hopeless situation. In a long dark tunnel with no sign of getting to the end. Surely it'd be easier finding a lift back to Broome? Just as we where about to give up a big youth, that gave the impression of a pick up truck pulled in a few metres ahead of us.
"Charlotte, they stopping for us" I yelled as I ran towards it.
My eyes met the ones behind the wheel, belonging to an old man in his 60's.
"I'm heading to Darwin" he said in a strong bogan accent. "Get in".
I got in the front as Charlotte shared the backseat with all our bags. Knowing that he had two daughters himself, both in their 20's, gave us some comfort. Usually that'd bring along good intentions. We couldn't have been more wrong, as it turned out. I sensed the bad vibes. The way he talked about women, his racism that created a sort of hatred within me, a feeling that I am not use to. I didn't realise this as we got in the car. Neither as we drove down to Halls creek that day stopping for the night. What we saw at that early stage was a potential lift all the way to Katherine. And that was the thoughts we chose to grab onto with dear life.
As we got to Halls creek that night he checked us all into a motel room, payed for our dinner and drinks. Getting the feeling that he was trying to get us drunk we carefully swopped for water after our second beer.
"I spoiled you girls tonight", he said to Charlotte later as i was in the shower. He was laying stretched out on his bed wearing only boxers.
"I know, thank you", she replied uncomfortably, begging for me to get out of the shower.
"Maybe you'll do something for me later… If you know what I mean".
He tried to invite himself to our bed that night but we firmly cut him off, saying that we'd walk across the road to the campsite if he got any closer. I know I should have been scared, but I wasn't. I knew that we were stronger than him. And all the alcohol he'd been inhaling that evening made him nothing but weaker. Soon enough we could hear his deep snoring in the corner of the room. We slept with a bottle of perfume under our pillow that night, as our only weapon. Just in case. We never had to use it.
We decided to look past last nights incident to get a free ride all the way to Katherine, taking turns of being in the front seat dealing with his constant rambling. He tried to get our phone number before separating in Katherine. I gave him a fake one. Never do I ever want to have anything to do with this man again.
After this over exhausting ride, we where happy to find a lift all the way to Alice the following day for the price of $50. Even if it was more than the money we had we were glad to spend them knowing that we wouldn't end up with another guy in sexual desperation. As we finally got to Alice Springs, our 5th day on the road, we were surprised to find out that our friends still hadn't got there. As it turned out they was stuck for 3 days in Tennant Creek trying to hitchhike.