You get a job, so you can afford to live. But then, you spend all your time at work and end up with no time to live the life you are working for. Atte Kappel 44, sold everything and went with the wind. Literally. Questions?

In July 2008, Atte was in his backyard outside his house in Nyköping when his surfer buddy André stopped by.
"I'm sure we complained about it not being windy enough to kitesurf the last couple of days. All of a sudden André told me he was reading this book about passive income, I stood clueless but André kept going. "Imagine writing a book, that's a one-time job and after you're done the money keep on coming in as long as the book is current". Those words gave me an epiphany and I asked myself, what is really worth living for?", he says.
A long discussion with his friend André made Atte start counting all of his assets, his house, his car and some savings. Was there a solution to being able to live more freely by working and creating a passive income for yourself other than the old fashioned way?
Follow "A different life" on Facebook for more stories like this in your feed:
"15 000 SEK a year, more than half of earth's population get by with less than that amount. That insight was important for me proceeding my plans for the future. Prior experiences led me to deciding that Southeast Asia would be a good fit for my purpose."
Atte immediately learned about the most important thing, the wind. Considering his huge interest in kitesurfing, the elements and nature played a big part in him choosing a country. He chose the Philippines, ahead of a couple of other alternatives. He learned about visa regulations and in the meantime he realized english was the official language. He couldn't let go of his idea of a simpler life.
"I called André and told him I was going to the Philippines to see if my budget was going to be enough and asked him if he wanted to come with me. On Christmas Eve, that same year we went to the island of Boracay and stayed there for almost a month. During that time I learned about the financial outgoings and put that in my future budgeting."
Since the american stock market crashed in 2008 the financial situation took a turn for the worse. This led to a couple of 100k SEK in loss of value on Atte's house, but that were was not going to stop him. He was dead set on moving. Looking at it in a sane way, Atte could be gone for three years and still come back with enough money to buy a studio apartment and return to an "ordinary" reality again.
"I quit my job and sold the house the next summer. I tried to sell and donate my old surfer stuff, it felt good to get rid of it. I was fully convinced that "less is more". I saved two boxes with old photos and significant memories. On September 19th 2009 I bought a one-way-ticket at Arlanda Airport and checked in my 58 kg of personal belongings."
Atte returned to the island of Boracay in the Phillippines, a growing destination for tourists with good possibilities to do business. This also became his home for the next four years. His time on the island was spent on kitesurfing but also searching for a source of income. He invested in both sailboats and tricycles. But it turned out making a profit wouldn't be easy.
"I bought myself some local sail boats and hired a crew. This was a popular tourist activity. Unfortunately, it didn't generate as much money as I had hoped. I noticed that one week the boats never left the dock. When I asked my crew why they told me about a basketball tournament in their village which they had to attend to and didn't have time for sailing."
He sold all of his boats and paid his attention on to the tricycles instead. They were like Boracays answer to the tuktuk's in Thailand. Now he was more careful and kept stats on all his drivers to be able to have more control, at least he thought he was.
"Trust is a hard thing in this country. It's impossible to know how much the drivers put in their own pocket. The whole process with permits for the vehicles is a big mess. It's a lot of bureaucracy and when all the tricycles on the island would needed to be replaced with an updated electric version I thought it would be best / was time to sell my vehicles. To make a long story short, my attempts of making a business down here gave me experience, but not much else more. My motivation for living on Boracay was starting to lack.
With the increasing tourism came the higher prices. A million people visits the island every year and with a newly opened international airport close by that number will probably go up rise even more.
"I started running out of money and couldn't afford to stay. I was in the need of some sort of change. I took my board and surfed to an island nearby, Tablas, to explore the possibilities of living there instead. Two weeks later we took our bags and said goodbye to the island of Boracay."
Atte is today living a comfortable life with the wind in his hair and sand between his toes. Along with his girlfriend Jingjing, he is building a house for them the old fashioned way. And when he's not surfing the ocean, he's out surfing the web. The person who brought internet to Tablas was actually Atte himself.
"I met my girlfriend through surfing. She's born and raised on Tablas, a place we now both call our home. We were given the opportunity thanks to contacts and friends to buy a 2700 square feet area of land on top of a hill with a breathtaking view for not more than 15 000 SEK. The lack of internet on the island was a big issue for me, so I solved it."
Through his background as an IT-technician, Atte saw the possibilities. A connection between a telemast on Boracay and another one up on their hill on Tablas led to success. The first ever online connection on Tablas was now a reality thanks to Atte. Now he gets neighbours coming come to their hill asking to borrow their connection to Skype with their family in Dubai. Which prior to this was only only was possible via short, expensive mobile phone calls.
"The possibility to give the neighbors a chance to talk to their family is priceless!"
The happy couple is working hard on building their dream house. Bags are filled with dirt and being piled up on eachother making the foundation of the walls. The catchwords keywords for the project is based on economy and the environment. It's not the fastest way to build a house but the final result will be great, says Atte who does not want to rush things. The Thailand tsunami in 2004 has made its marks.
"We were a group of eight people, two of us didn't make it. That gave me post traumatic stress and a life of "manana, manana" gives me a piece peace of mind. Tablas is the same today as it was a hundred years ago. We get water from our own well on the backyard. We cook our food on a gas stove or over open fire. The power comes and goes how it pleases, everything is just how it's supposed to be."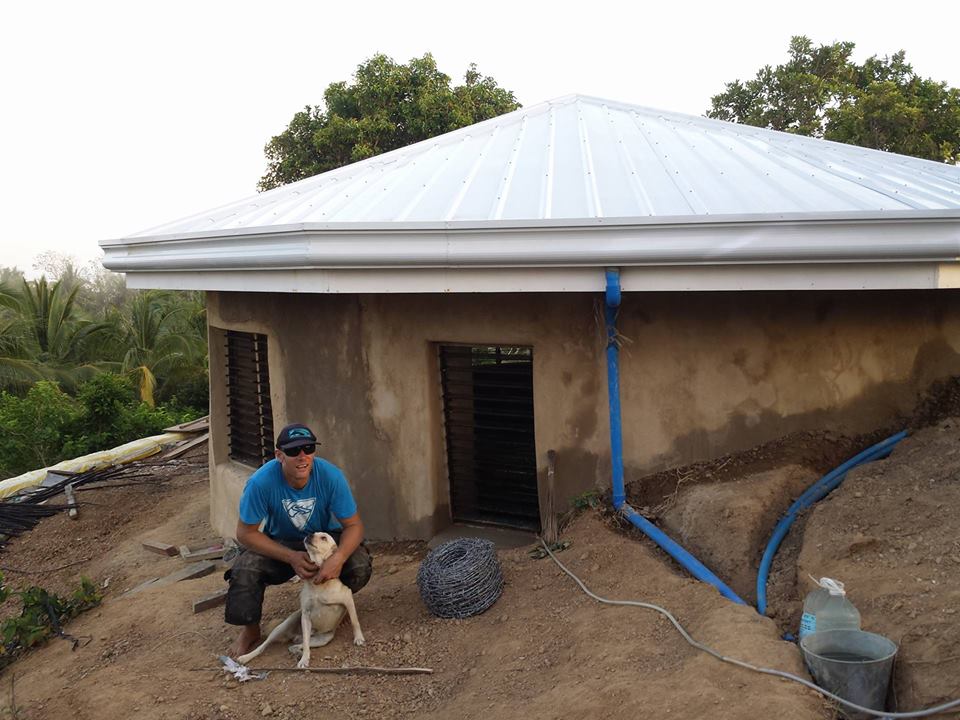 The hill with the magnificent view.
That "passive income" or a well working business never happened. Work a little in Sweden and live a lot in the Phillippines became the solution.
"I am able to work a few months a year at my old swedish job. Me and my girlfriend together needs about 4000 SEK per month to be able to live a good life on Tablas, so why would I spend more time in Sweden than necessary?"
Besides that extra money he gets from working in Sweden, Atte is a successful kitesurfer. His sponsor Flysurfer provides him with essentials to be able to compete on a high level. He's often on the price podium in different asian tournaments. The same thing goes for his girlfriend Jingjing. It's not huge The prize money is not a huge amount but it helps them increase their savings.
"We enjoy what we're doing, living the simple life with a less is more attitude. If anyone questions my lifestyle I happily blame my friend André, it's his fault I'm here."
Patric Olé