This is my easy guide with everything you need to know before hiking to the beautiful Trolltunga in Norway.
What is Trolltunga?
Trolltunga is a rocky outcrop hanging out like a tounge high above Lake Ringedalsvattnet in Norway. It literally means "The troll's tounge". This is Trolltunga: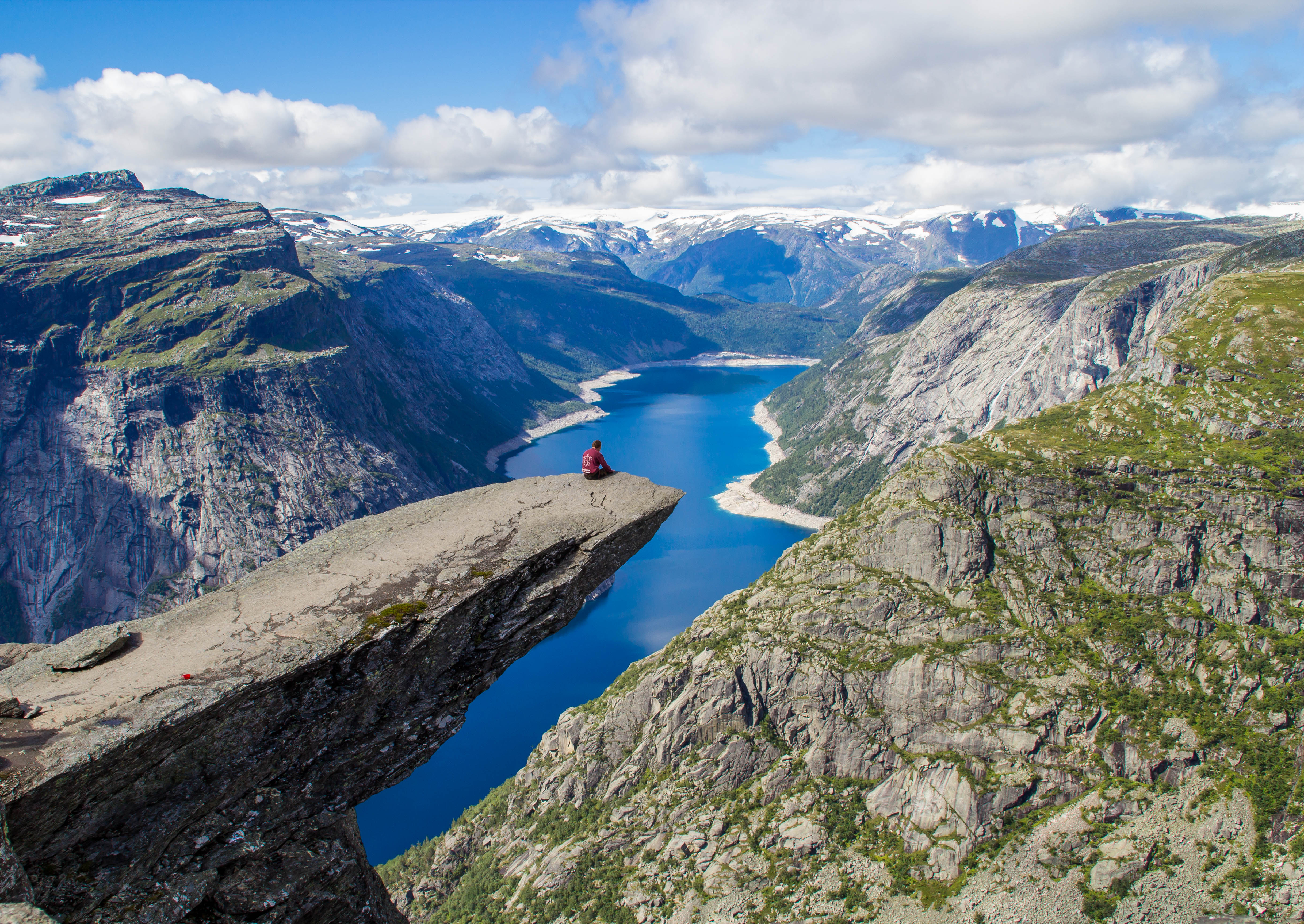 Where is Trolltunga?
Trolltunga is located outside the small village of Odda – which is at the far end of the Hardangerfjord in southwestern Norway. If you have your own car and are a bunch of friends, it will be the easiest and cheapest to drive there by car. By car it takes about five hours to drive from Oslo. It is easy. You just follow the E18 / E134 west towards Haugesund and you will come all the way to Odda. See map below.
Otherwise you can ride a bus all the way from Oslo with Haukeliekspressen. It is possible to book a ticket on their website.
From Odda to Trolltunga
The hike starts at a small parking lot, Skjeggedal. It takes about 20 minutes to drive to Skjeggedal from Odda. See map below:
How far is it to hike to Trolltunga?
From the parking lot to Trolltunga there is 11 kilometers of hiking in the mountains. This means a total of 22 kilometers (2.2 kilometers) round trip.
You should expect it to take 10-12 hours to return to Trolltunga. The first bit of the hike, around 1-2 km goes up the mountain side. It is sometimes muddy and slippery. Be careful and take it easy so you don't get tired. It's a long way to go when you're up on the top – so you want to save energy.
After the steep mountain side, it continues relatively flat even though it goes up and down. Here is a map to Trolltunga that also shows the profile of the hike. Image from Hardangerfjord.com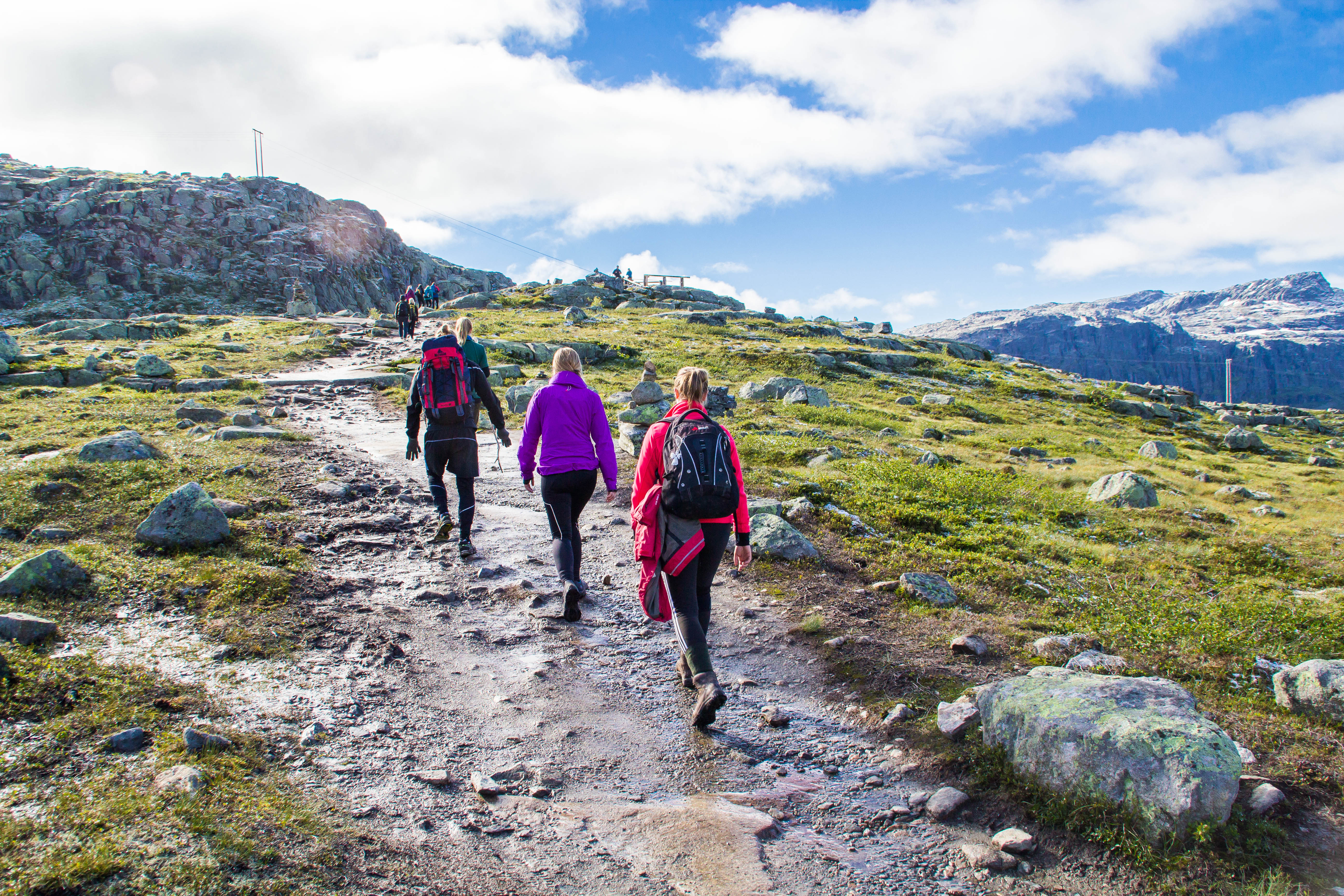 How hard is it to hike to Trolltunga?
Hiking to Trolltunga can be quite demanding. It is a total elevation gain of 700 meters. You must be prepared both physically and mentally. Never walk alone – always hike with someone else.
The first 1.7 kilometers of hiking go straight up the mountain slope.
Think before you go!
Don't hike in the dark – start hiking early in the morning (latest at 10am)
You should have good fitness and be in good health
Pack properly with food / snacks and water (water can be refilled from the mountain streams that are very clean and possible to drink)
Bring the right clothing to protect you from rain, wind and low temperatures
Have proper hiking boots that you are comfortable with
Photo from Hardangerfjord.com over the hike and also the elevation gain.
When is the season to hike to Trolltunga?
June to September is definitely the best. Take a look at this image from hardangerfjord.com:
How do I take my picture at Trolltunga?
You simply have to ask one of your friends to take the picture or anyone else who is there. There are many people who walk to Trolltunga every day and every summer. When you arrive at Trolltunga after several hours of hiking, you can expect to stand in queue. There might be some traveling photographer at Trolltunga, they offer professional photos for a small price. But don't expect it. There are plenty of kind people to help you take your picture.
Stay in Odda?
Yes, I recommend it. In Odda there are several options of accommodation. Hostels, hotels, cabins and campsites are just a google search away.
Next morning it is good to start hiking to Trolltunga early so you want a good night's sleep behind you. Both for safety reasons so you have plenty of time to go back before dark. But also because Trolltunga has become so popular that you will have to stand in line to take that classic picture – nice to be among the first then so you dont have to wait so long.