Here is Part 2 about the hike to Everest Base Camp. Part 1 you can read here >>
In Tengboche we get to see Everest (Day 6)
From Namche the trail take a turns into the next valley, right towards the Everest range with all the high peaks. In the morning the clouds are dense and we can't see any peaks at all. However, its pretty spectacular when a cloud quickly fills up the whole valley and all of a sudden we're literally walking inside this cloud.
This morning we don't have any other choice than going down all the way to the bottom of the valley to cross the bridge over the roaring river. With are bellies full with oat porridge we fly down the hill. Before we take on the climb on the other side we have lunch. It's hard for the body to adjust to have lunch already at 10.30, but it's too long until the next restaurant so we don't have much choice. "Riverside Restaurant" is a simple shed offering a simple menu of pasta, Dal Bhat or soup.
The afternoon turns out to be the toughest climb so far. With lots of energy after lunch I overestimate myself. My phase was too fast and I hit the wall. Every step is heavy. The breathing is painful and I feel nauseous. But, I don't let it get to me. I keep going, one step at a time. It works. Because I have decided that it will. I have decided that nothing is going to stop me.
ALSO READ: Rafting on the Buller River in New Zealand>>
We arrive at our lodge shortly after 1pm. The walk is hard, but at least the time we're on the trail is not unreasonably long. In the afternoon we are rewarded with amazing views of "Ama Dablan" in all its glory and with our jaws dropped we witness how the sky is clearing up so we even can spot Everest (though not the absolute last little bit of the summit).
After dinner we round off the evening with some new friends in a game of "Shithead". Silly jokes and funny stories from the hiking day are exchanged and we all have a good laugh. It's one of the best things about hiking, all the people you meet along the trail.
FOLLOW: We quit are jobs to live A DIFFERENT LIFE – Follow us on Youtube >>
Towards Dingboche and 4,000 meters (Day 7-8)
The morning in Tengboche begins in the best possible way. At 05.30 I wake up and open the curtains . The sun is rising, the sky is clear and I can see every mountain peak in the valley completely clear. A minute later I see how the sun rays are casting its light onto the highest mountain top in the world. This is just the beginning of a spectacular show I will never ever forget. Everest's "south face" is covered by the sun's gold-orange light, it doesn't look real, more like a really good painting. I sit at the window sill and forget the world around me. Next to Everest is Nuptse (7,864 meters) and the world's fourth highest mountain Lhotse (8,516 meters).
Coming back to the real world, it's breakfast time. Same breakfast as we have every day, oatmeal porridge with apple pieces and cinnamon. Completed with some toast and scrambled eggs on the side. Some lodges are better than others when it comes to the porridge, but I guess we can't really complain at nearly 4 000 meter above sea level.
This day turns out to be our best day so far, weather wise. The sun is burning on a clear blue sky and we walk in only t-shirts and shorts. It's really warm and nice and during almost all day we have the amazing peak of Ama Damblan right in front of us. Pretty impressive and that if anything gives us motivation.
READ MORE: We swam with Hectors dolphins in New Zealand >>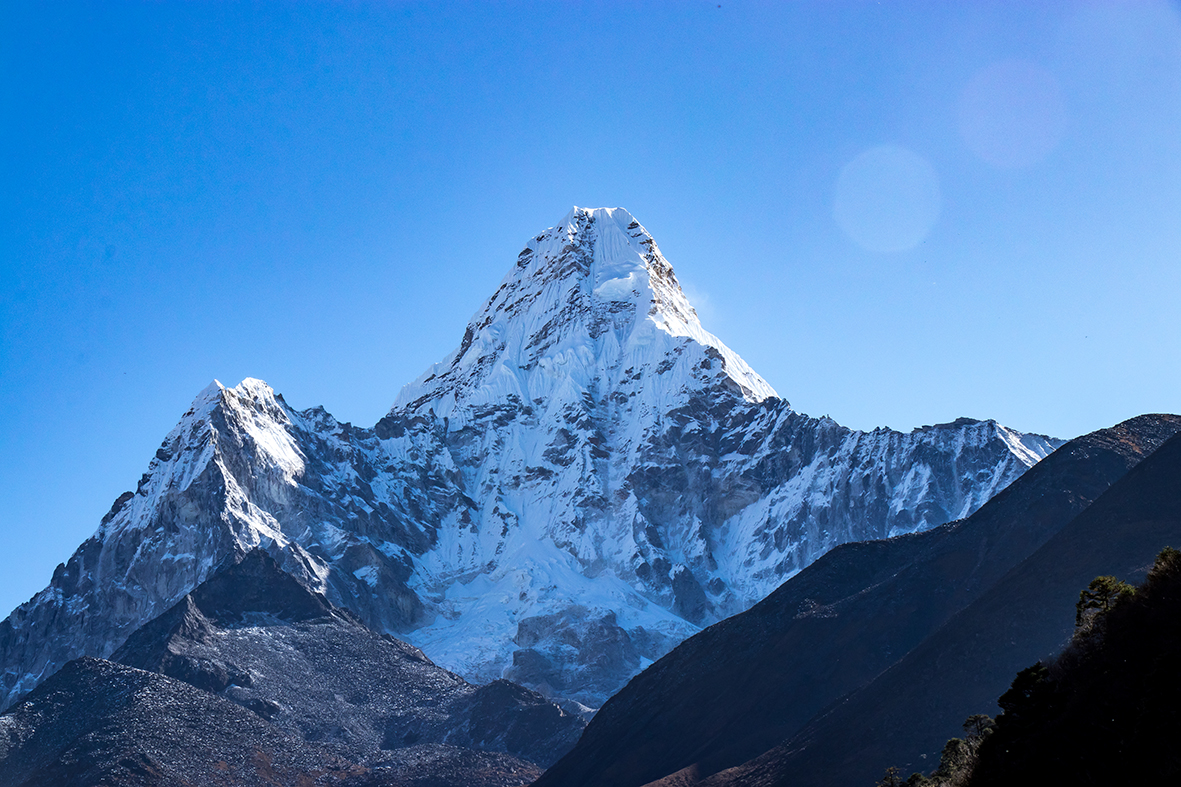 In the small village of Shomare, we are about to pass 4,000 meters. Here, I feel the worst I did during the whole time in the mountains. I barely make it to the restaurant where we will have our lunch. I feel sick and I think I never felt this tired ever before. I can hardly speak, and if you know me, I normally struggle keeping my mouth shut. I don't say a word throughout the whole lunch and I don't really have any appetite, but I force myself to eat some dal bhat and garlic soup.
From the deepest part of my body I manage to dig up some hidden energy to continue after lunch. It's again, my mindset that have spoken. I feel better in the afternoon and the last bit towards Dingboche I'm pretty much back to normal, full of joy and lots of energy. It's strange how the body works sometimes.
ALSO READ: A stunning 4WD adventure in Wanaka, New Zealand >>
In Dingboche we stay for two nights, our second stop to acclimatize. During the second day, again we do a shorter day hike up, this time up to over 4,600 meters. I feel so good this day. No headache, no nausea and I have a very good appetite. I feel pretty damn good to be honest. A good night's sleep did it for me, I seem to have acclimatized very well. I'm very grateful for that as there is many that doesn't make it. Every day there is several helicopters flying forth and back rescuing people with altitude sickness.
To Lobuche – Snowfall and amazing views (Day 9)
Snow falls during the night and in the morning the whole valley is painted in white. It gives us a real Christmas feeling, especially when we hear the bells from mules and yaks wobbling along. I can't help it, I'm giving it my best singing Jingle Bells.
The sky isn't perfectly clear, although we can see some snowy peaks towering above us. Nevertheless, I think this the best day of our whole trekk. It's so cozy to walk in a snowy landscape and it brings me back to my childhood during Swedish winters. And whats even more fun, the snow is so perfect that we manage to build a little snowman.
In the afternoon the sun comes out of the clouds and so do more of the peaks. After lunch we turning, crossing the river that comes out of the Khumbu ice fall and head up into the last valley towards Everest and Base Camp.
Further up the valley the river is no more, instead there is the magnificent Khumbu glacier, unfortunately we can't see it from this part of the trekk. But knowing it's there, just behind a big bank of gravel, gives me goose bumps. The glacier stretches all the way from the very side of Everest and the ice fall and down here. We are so close to our goal now.
After lunch and a long steep hill we arrive at the memorial site. Memorial stones have been erected for those who mountaineers that lost their lives in the Himalayas. I find the stones for Rob Hall and Scott Fischer who died in the 1996 disaster, the events that was brought to attention in the movie "Everest" from 2015.
We stop for a while at the memorial site and send our thoughts to all the brave mountaineers. It's not a bad place to honor this people. The views from the memorial site are incredible.
The last bit up to the small village of Lobuche is a slow killer. The valley looks really flat and simple, but it's steeper than it looks. The last bit is really tough for us. I look closer at the path ahead of me as I sit down on a rock for a short break. It really does looks flat, but when I start walking, every step i hard. I have no energy left. On the way down a few days later I laugh when I think of my self. How we could think that this bit was flat, with new eyes we really see that flat is the last word you would use to describe it. It must be an illusion.
Arriving in Lobuche, my body is empty. I have used all power there is to get here. We are now at 4,940 meters above sea level. However, in this tiny village I find my life saver – a german bakery. The cake they serve with hot chocolate on the side is insanely good. Every bite is like a dream, it melts in my mouth. I might over exaggerate this just a tiny bit. But there and then, for me it was the best cake I've ever had.
Everest Base Camp – we did it! (Day 10)
The big day is here. We're going to Everest Base Camp. I wake up and feel really good. It's cold and I don't really want to leave my sleeping bag. I have no headache and I'm really hungry for breakfast. I am genuinely surprised as I thought the altitude would affect me much more than it has. At the same altitude at Kilimanjaro a few years ago, I felt much worse with constant headache and nausea.
For my friend Sean, this morning doesn't start so well. After downing almost one liter of ice cold water, all of it comes back up again. Altitude sickness? Or just the body that refuses to take something that has such a low temperature. It seems to be the latter as he later in the morning feels better.
Already at half 7 we're on the trail. It's happening. Our last day of hiking before we can say that we have achieved our goal.
This day we walk on top of the glacier bank. We have an amazing view of almost all of the Khumbu glacier, which is looks like a long white snake in the valley. Amazed I look down at deep crevasses and high ice towers. It's really, really cool. Art created by nature.
After just over three hours of hiking, we arrived in Gorak Shep. Halfway to Base Camp. Gorak Shep is a collection of lodges for us hikers, nothing else, that's all there is. It's time for lunch and we can also leave our bags, this is were we will sleep tonight.
When lunch is served I'm not that hungry. I dont feel to eat Nepalese and have ordered pasta with tomato sauce. I force feed myself som pieces of pasta, but it's hard.  Our guide Padam also insists that I should have some garlic soup and put some infront of me. It's meant to be good for altitude sickness. I can only get a couple of spoons down.
After lunch it starts to snow. A lot. The bit up to Base Camp from Gorak Shep is not a steep hill. It is relatively flat compared to what we went through in the last few days. But it's tough anyway. I think the snow helps. This landscape is normally just gray and full of rubble, but now it's pretty in it's white coat.
After many steps, moans and bad jokes, we can finally see the collection of tents next to the Khumbu glacier in the distance. My heart skips a beat and my smile reach from ear to ear. The goal is within sight. Wow.
Sure, my appetite is completely gone and a my headache is constant, but nothing can make me stop smiling. Step by step, we're slowly approaching Mount Everest Base Camp. 5,364 meters above sea level.
It's not the living room with a cup of tea under a cozy blanket in front of a good movie. It's pure pain. It's suffering. It's real hard work. A question pops into my head: "Why am I doing this?".
The answer comes with no doubt and is what gives me fuel to continue. It's the feeling of pursuing a dream. The feeling of reaching a goal. The feeling of climbing a mountain of my own strength, with my own feet, with my own body and my own energy.
Sure, it't painful. But at the same time it's just, absolutely wonderful. When I arrive at the pile of stones that marks our arrival at Everest Base Camp, I fall on my knees and lift my arms ans screams out a loud "YEEEEEEEES" all the way from the bottom of my heart. It's a message to the whole world: "Nothing is impossible".
Everything is possible. Absolutely everything. If you just want it enough. There is nothing more to say, my YES explains everything.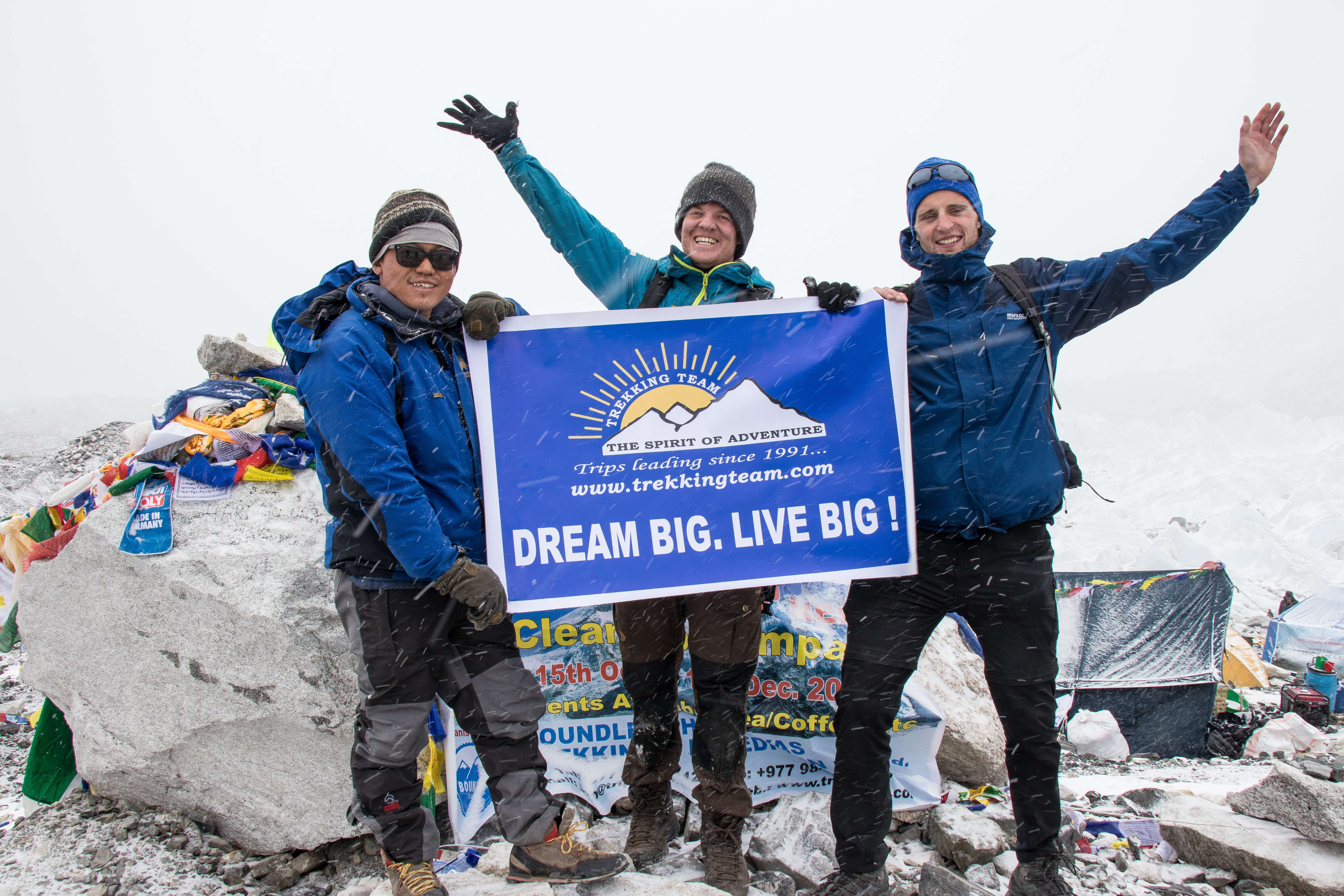 We stay in Base Camp for a good while. I find myself staring at the Khumbu ice fall. The first real obstacle for those who will climb the summit Everest. The ice fall is long, loud, terrifying but also so damn cool.
However, we cannot see Everest at all. It's cloudy and the snow falls heavy. But it doesn't matter. A life goal and a dream have just come true.
Kala Patthar – view of the roof of the world (Day 11)
The alarm goes off at 4am. I put on my clothes to go out and see if the sky is clear. I see the stars and that's the sign. Now we just have to walk to the best Everest viewpoint, the top of Kala Patthar at 5,545 meters. We want to get there for sunrise. Kala Patthar is not far from Base Camp overlooking Everest and all the other high peaks.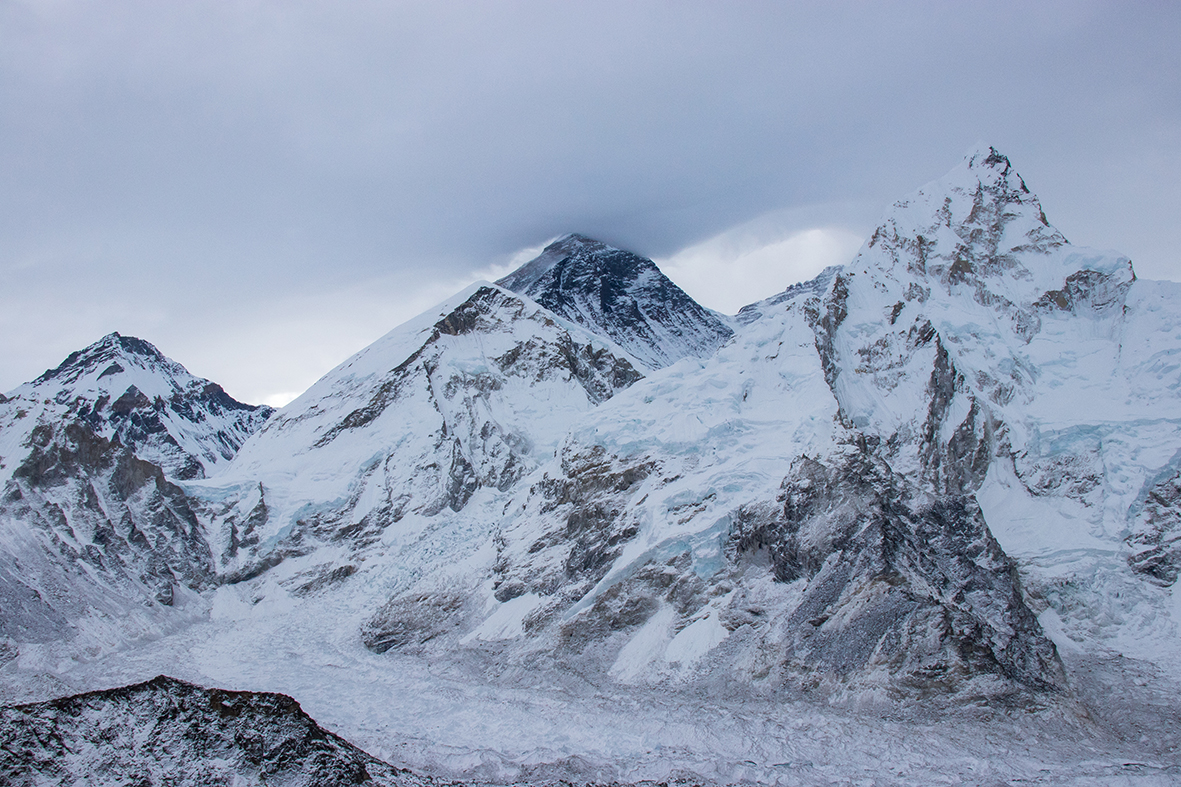 It's ice call this early morning. After two hours we still have a bit to go, but the sun is on it's way up. We stop for photos. Mount Everest towers above us with the summit fully visible. The world's highest point. It feels absolutely unbelievable to see Mount Everest this close. Only three thousand meters higher than where we are.
The last bit up to the top of Kala Patthar is the hardest thing we done all week, no doubt. Every step is a torment. For every ten steps I feel I have to rest for 30 seconds. I can feel that I really am pushing my body to the very limit. Now every blood cell works on it's full capacity. But there is one part of the body that is not tired – my brain. It tells my whole body to keep going. I'm going up there – there is no doubt about that inside my head.
With only five small steps left to that stone where I can sit down, another hiker on his way down gives me a biscuit. He can see the painful expression on my face and kindly tells me to eat something.
I literally shove it in my mouth, it's not beautiful but it's energy. I manage to pull myself together and take the last steps. I literally falls down on a rock and can't move for a minute. I look up, Everest has disappeared into a cloud, but still, what a view. This is hard to beat. This is amazing.
All the way down in three days (Day 11-12-13)
The way down goes fast. Already on the same day as we climbed Kala Patthar we descend to about 1000 meters. We get high on oxygen. Our bodies have been acclimatized to oxygen-poor air and down here, O2 is working as a drug. Our energy is back, big time.
The second day down we head back all the way to the Namche Bazaar. The sky is blue and the sun is shining on the top of Everest which sits proudly in the horizon behind Nuptse and Lhotse. We get the whole day to say goodbye to the world's highest mountain. It never leaves our sight.
The night in Namche Bazaar is a night of celebration. We have a couple of beers and a few rounds of pool at the world's highest Irish pub.
Our last day means hiking back all the way to the start in Lukla. The day walking down Namche Hill and through the lush valley becomes the final chapter of this adventure.
Now I already long for the next one.