Our vehicle slowly rolls into the parking. The beauty hit me with surprise. How the strong and warm light of the sun hits the spectacular and majestic sandcastle before us.The first thought that runs through my mind is what a magical place this must be for taking photos. I smile on the inside and out while I'm getting out of the car. Along the way, we pass a little wagon that rents out boogie boards and a new idea is born to fulfill the perfect bucket list of all times.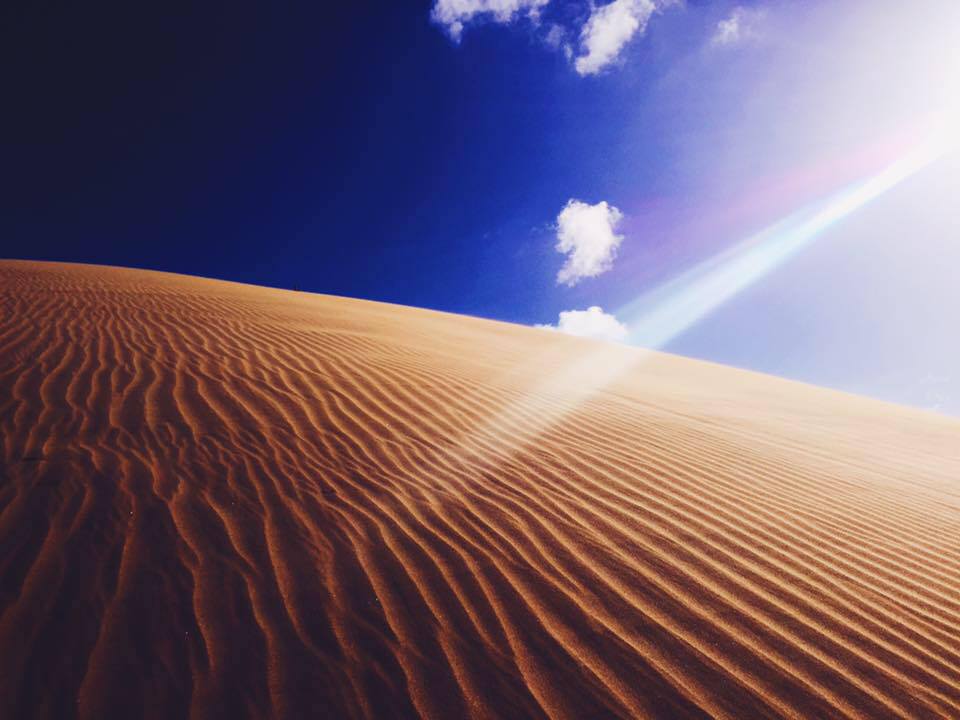 The sand is smooth as velvet between my toes when I, with firm steps, start to climb the sandy mountains ahead of me. Running into the golden hills of Te Paki, in the land of my dreams, was absolutely nothing I was prepared for. The warm breeze slowly turns into a heavier wind that makes my sun kissed blonde hair play all over my face and the sand whip my bare legs.
While making it up to the top I thought this was going to be one of the most beautiful places I had ever seen. As I reached the summit I realize that I was surrounded by all these sand dunes which made it even more worth the walk. The only thing you might want to add to this place would be a couple of camels in a row and maybe a pyramid, but that's really not necessary at this point.
After a better hike and a bit of adrenaline, we find the perfect spot to get into action. Excited to a hundred percent and with the board under my arms, I was so ready for some serious sand surfing. Not even an eraser could wipe away the smile on my face.
After a couple of amazing runs down the hill and some tuff walks up with some slight lactic acid in my thighs, I shot some incredible photos which was pretty much impossible to actually fail doing. The way you could catch the light was just ridiculous for an amateur photographer and I did manage to capture my experience here in a nice way.
So a good advice for you guys out there who have a blank space left on your bucket list, put this place and adventure right in there. You will not be disappointed.
More photos can be found on my instagram account; mybucketlistchallenge
Cheers guys and don't forget, Our world is like an oyster so don't be afraid of exploring it.