Machu Picchu, one of the wonders of the world, an old Inka settlement amongst way older mountains. I was in Peru, and of course I had to go see it with my own eyes.
It all starts in Cuzco, a city in the Andes, no matter what kind of Machu Picchu experience you desire. Perhaps you arranged your walk on the Inka trail before you even touched Peruvian soil. Perhaps you landed in Lima or Cuzco and decided to take a tour with one of the many tour companies. Perhaps you opted for the hike that will let you do water rafting, mountain biking and zip lining on your way to these ruins. Or perhaps you, just like me, decided to just wing it and hope for the best. Whatever you chose, it starts in Cuzco.
Cuzco is hot. This was my first though as I exited the plane 3400 meters above sea level. Two hours later the sun had set and I felt like I was freezing to death underneath four hostel wool blankets. Despite this, I was fairly happy. Not only had I found good Peruvian coffee in one of the cafés around Plaza de Armas, but I was also only a few days away from Machu Picchu.
The following day I figured out that I could either take a cheap minivan two hours away from the city, to Ollantaytambo, and there switch to the train to Machu Picchu. Or I could take the train all the way. The train is ridiculously expensive, which is why most backpackers take the minivan as far as there's a road. I, however, found myself staring at the budget-killing numbers, thinking that it's going to hurt either way, so I might as well hurt comfortably – and took the train all the way.
Follow our Facebook page to not miss any travel articles about South America and from rest of the world:
The train was comfortable, as expected, with windows in the ceiling so you had a chance to see the wide mountains all around. The staff served coffee and cookies, and there was music with lots of flutes playing. Every now and then a voice would be heard over the speakers, explaining what we could see outside, what community we went through, and where the Inka trail started.
Before I got onto the train I had slimmed my backpack down to almost fit Perurails requirements. You're only allowed a small carry on that weighs no more than 5 kilos. I had stressed about this, not really too fond of leaving any of my already small baggage behind. But as I got to the train station I noticed that many had not cared at all about this, and was allowed on board with big backpacks. So, if you end up doing this trip, don't stress about it like I did.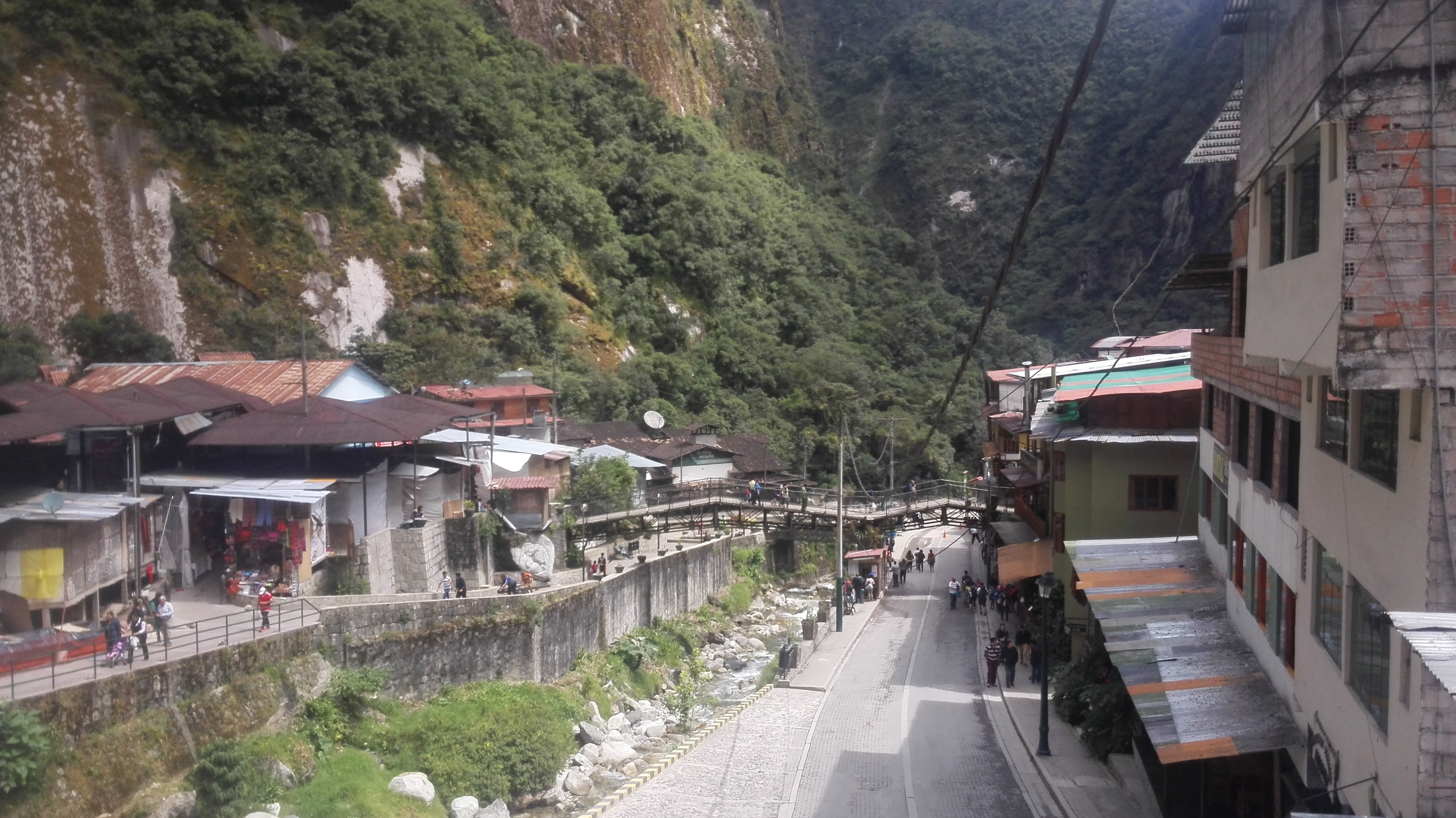 The town next to Machu Picchu is called Aguas Calientes, and is pretty much the cutest little tourist town I've ever seen. When you exit the train station you end up in the middle of an artesian market where you can buy all kinds of souvenirs. The town is otherwise filled with restaurants and hotels. Unless it's busy season, or unless you prefer something fancy, I'd say that the regular backpacker can easily go there and walk around to shop for the kind of hostel/hotel he or she might want.
After having settled in, I took a walk to the Machu Picchu ticket office and got a ticket for the following day. Hiking up the mountain is free, while the bus up there costs 12 dollars. The hike is supposed to follow somewhat in Hiram Binghams footsteps, which is the guy that got credit for discovering Machu Picchu and making it so popular. When I thought of doing the hike, I looked up at the mountaintop, then looked down at my cheap H&M shoes, said nope and got in line to catch the bus at six in the morning.
The line was long. I'd guess that about two hundred people were already waiting in front of me, but the line moved quickly and a short while later I was enjoying the thirty minute ride up. The higher up we got the more beautiful the scenery became. All around was mountains, green and alive, and every now and then we'd go by a waterfall, or glimpse the Urubamba river far below. Then, we turned a corner and there it was. As the bus came to a stop and I went through the entrance, I felt myself starting to get excited. I was, after all and at last, at Machu freaking Picchu.
As I sneakily listened to a tour group, I learned that there was an easy way and a harder way to do this. The easy way was to avoid walking the hills and walk straight to the little town. The other was to follow some steps up and see Machu Picchu from the point where many photos was taken. Having saved my energy by not hiking and not planning to climb any of mountains, I decided to walk the steps. The higher I got, the cooler it became to pause and have a look around.
Suddenly I was there. I looked around and it was like my brain couldn't comprehend that I wasn't staring at a picture anymore. This was the real thing.
"Can I do a jumping picture?" asked a girl standing on the edge of a cliff. As her guide said no, she sighed. "What about a yoga picture?"
There was a lot of tourists up on that hill, but the area was so open and the view so marvellous that for once it didn't bother me. I sat down and watched the morning sun illuminate the stones and the grass. Far, far down I could see people walking around in the old city. Even further still was the Urubamba river. Foggy mountaintops rose high on my right side, snowy mountaintops on the left.
As I made my way down into the actual city by walking past the agricultural terraces and in through the city gate, I was delighted to see alpacas and llamas roam freely on the site. While being all cute and fluffy, some of them let themselves be pet while others kept to themselves. I walked around watching the temples and houses, listened in on guided tours as I slowly walked past them.
"They have numbered some of the rocks so that if there's an earthquake they can more easily put them back", one said.
As I left the old Inca city I had the feeling of having dreamt it all. As soon as I went through the exit I looked over my shoulder and pinched my arm. Had I really just visited Machu Picchu?
The following day, before I took the train back to Cuzco, I walked back to the foot of the hill leading up to Machu Picchu. From the road I could see the edges of the city, and the terraces surrounding it. I wasn't going to visit for a second time, I was on my way to the museum that I really should've visited before I went up the hill. In there I got to see all kinds of things formerly owned by the Inca people. Bowls, tweezers, knives, mirrors, sculptures. Machu Picchu came alive in my mind even more.
This was the most expensive thing I've done while travelling (yet). It hurts the budget, but it is, all things considered, worth it. The entire experience, from visiting Cuzco, to Aguas Calientes to Machu Picchu, is something you won't find anywhere else. The site is touristy, and touristy places often lose their charm. Somehow, they've still managed to keep the spirit of this place. And it's a very, very cool place to visit.